About Us
Beginnings
Long Arm Investigative Services and Associates Inc. is owned and operated by three good friends that trace their friendship to the beginning of their careers in Law Enforcement. Ronald Bill, Robert Guiles and Leo Skiba all dedicated their adult lives to service and commitment to the Country and their Community.
It is with this dedication of service to protecting the citizens of this community that they still offer in their commitment of excellence with Long Arm Investigative Services and Associates. The knowledge and skill obtained over the years in that service is of highest caliber. The Instructor staff is recruited from the best of the best. Our Instructors have numerous certifications from New York State and from Federal Law Enforcement agencies.
When you attend a class or retain a service of Long Arm Investigative Services and Associates, you automatically see the difference from other providers. We don't claim to have attended this seminar or read this manual. We give those seminars and write those manuals.
You need to ask yourself if you want someone that thinks they are good. Or someone that knows they are the best.
We offer the best service for whatever your need. Whether you need an Investigation, Security Survey and Emergency Management Planning or a Self-Protection Survival Training, you will see that when you have Long Arm Investigative Services and Associates on the job, you have the best.
We specialize in Background Investigations, Commercial Security Training, Commercial Security Evaluation, Computer Investigation, Emergency Planning, Fingerprinting, Fire Investigation, Firearms Training and Hostage Training.
For more detailed information please click on Services or Certified Firearms Training Courses.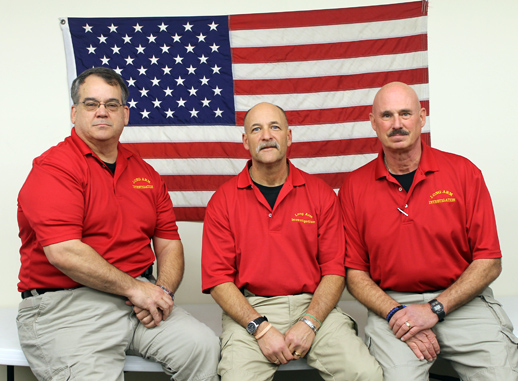 (L-R) Leo Skiba, Ronald Bill, Robert Guiles
Home · About Us · Staff · Services
Firearms Training: Intermediate · Firearms Training: Concealed Carry Permit
Firearms Training: Basic Pistol · Photo Gallery
Links · Map & Directions · Contact Us